This page is to showcase just a few of the press photos I have taken over the last five or so years. I recently had to delete my original page due to a mistake on my part.
I hope that you enjoy looking at some of the pictures and I can assure you that I do enjoy taking pictures of the more pleasant things that go on around us on a daily basis. Sadly some of the content I have photographed has been less pleasant than the images published on this page.

2010 to 2015

Just one of the fabulous firework displays on our beach in 2015

Our 2014 Mablethorpe Goes Crackers Xmas Market

Sutton on Sea Methodist Church after being struck by lightning.


More from 2014. Unfortunately 2015 was cancelled due to bad weather.


Mablethorpe September 10K run start.


The Mayors charity appeal stall


2015 Beach Hut Festival attraction. Just one of many performers that weekend.

One of the acts at our Illuminations switch on.


The ceremony at 11pm on 11-11-2014 to commemorate the start of World War One.


The youngest local runner with the Olympic Torch prior to the 2012 Games.


More from the switch on day.


Two very good friends of ours were awarded the BEM in 2013 for their fund raising efforts for Hull Royal Infirmary. Their daughter lost her life to a brain tumour some years ago and they have raised in excess of £150,000 to date for equipment for the neurological unit at Hull


The day the Archbishop of Canterbury came to Dave's Diner in town. He was in town to give a talk at the Christian convention at The Golden Sands Haven Holiday Park. The worst kept secret in town was that he was having his breakfast before he went down to speak.


One of the acts did a brilliant impromptu performance on the ramp up to the seafront after the lights were switched on.


Armistice Day in Sutton on Sea with a Chelsea Pensioner and some combat veterans including Jack Quinn who was one of the first on the beaches of Normandy in 1944.


Halloween at the Grange and Links Hotel. Just one of the many events staged by the owners every year. A fabulous venue.
PRESS PHOTOGRAPHS
2016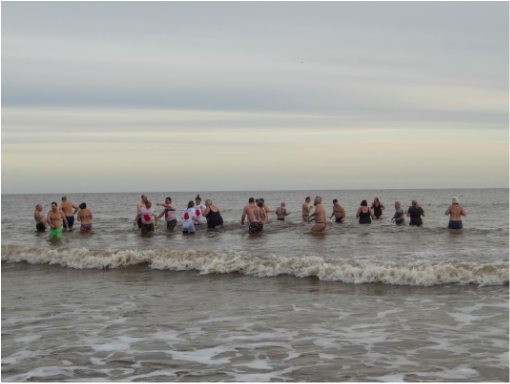 New Years Day 2016 and with an ambient temperature of about 3 degrees Centigrade the British Legion managed to persuade 25 hearty souls to go for a splash to raise money for their charity. The total raised exceeded £2500 and most people enjoyed the hot Tea, Coffee and Chocolate after the event. There were a few people that were suffering for a short while but a good time was had by all. The swim has been designated as an annual event if they can get enough people who enjoy getting frozen to death.
---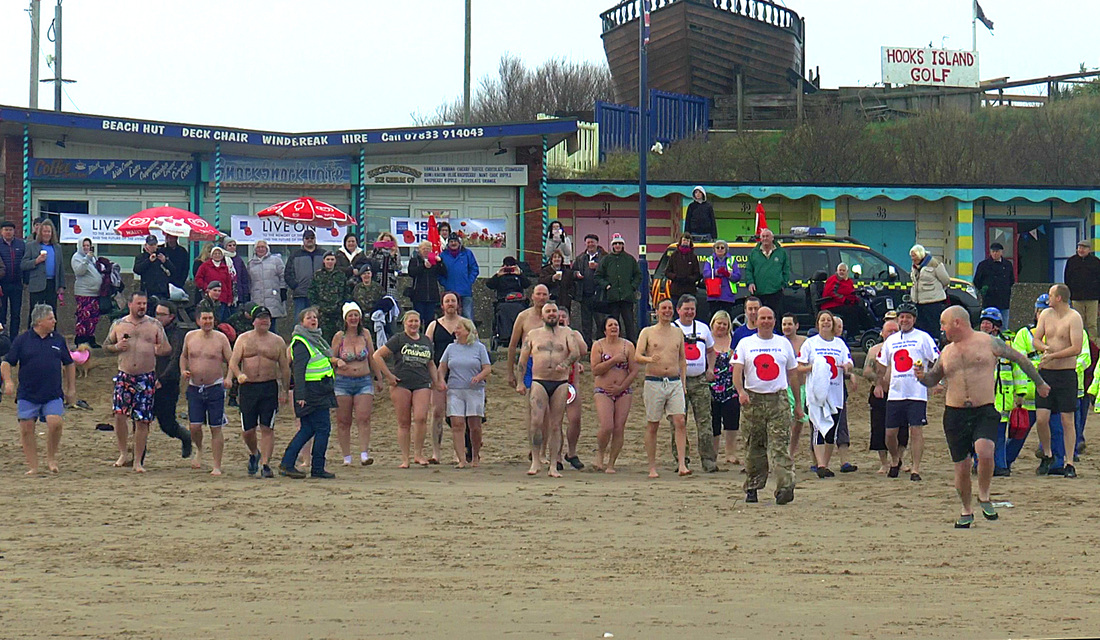 SOME PICTURES FROM 2015
---
Back in the summer in Sutton on Sea they have The Furlong Festival which is just a fun day out for families. It was initially the brainwave of vicar Adrian Benjamin. These pictures are of Mayor Graham Cullen and consort David Wilkinson with the birds of prey display. Then one very nervous local lady trying her luck. The last picture is of the slightly comic sheep shearing display. Both funny and informative.

Then we have three pictures from our Anzac Day commemoration and Armistice Day parade.

Then we have six pictures of our local RNLI crew trying out our new Atlantic 85 boat and some general shots of the crew and PR with some local school pupils.

The last three pictures are of Our local MP Victoria Atkinson at our 2015 Jobs Fair with one of the participants. Then there is one picture of our local Air Ambulance on an emergency call. The last picture is of the children from Chernobyl who have a day out in Mablethorpe every year when our local Lions Organisation treat them to a day on the Fairground and beach with Fish and Chips. Sadly due to the radiation poisoning from the region they live in they will rarely live to a ripe old age. It is wonderful to see them enjoying themselves and they are lovely people.