I am a Freelance professional photographer living on the East Coast of Lincolnshire England. For many years I worked as a mechanical site engineer until I had to finish work in September 2010 for personal reasons. I photograph events and carry out some work for the local press. I am just in the process of producing a calendar for the 8th year featuring pictures of Mablethorpe and Sutton on Sea taken throughout the 4 seasons. This little website is a means of showcasing some of my work and retailing it to anyone that likes having nice pictures to look at on the walls of their home. All pictures are on good quality paper using archive quality inks with a 100 year plus non fade guarantee. (As if anyone really cares after about 50 years)My prices as listed elsewhere are very reasonable but unfortunately delivery is not included unless you live quite close by. Feel free to ask for quotations regarding any pictures you have if you want them enlarging or repairing.

I also carry out photographic assignments of various types for people. These have included portraits, passport photos and pets in the past as well as commercial commisions.

---
Purely Mablethorpe

Our lovely Mablethorpe beach in August with a boat heading out of the Humber in the background, The Sand Train running up and down the beach as he has done for so many years and the Lifeguard keeping an eye on things on his quad bike.





---

Just to show that sunny Mablethorpe is not always that


sunny, in fact it is often wet, windy and can be very cold and unforgiving in mid-winter. Nevertheless it is quiet and it is
absolutely fantastic walking on the beach when it is freezing cold and the wind drops.




---

March 2010 and yet another pretty stormy day. We do even get surfers that brave our pretty fierce tides and cool North Seas. The colour of the water is due purely to the amount of fine sand washed up by the undercurrents. In fact we have some of the cleanest waters on the East Coast of England and are justifyably proud of our "Blue Flag" Award.


---

The one thing that marks out Mablethorpe from the majority of the East Coast is the number of baby seals that are born in the vicinity. Every year the colony just up the coast by about 7 miles is the site of about 1000 births from November to about the end of January. At the weekends the area is absolutely packed with tourists so if I go up to see this fantastic site it is a 6am start to get there before dawn midweek. We do have our very own Seal Sanctuary up at The North End that is privately owned. It is a fantastic place run by fantastic people and needs all the support it can get so a visit is highly recommended!




A very young baby seal resting at about 7.30 am on the 3rd of November 2010. The thing that was so great was just listening to the waves crashing on the beach in the distance and the cries of the newborn seals on the beach as they cried for their mothers.


---

---

Our yearly Motorbike Festival in March. The Vandrell display team as slick and brilliant as ever. We always seem to get good crowds and the trade stalls do well. Always worth a visit.

Sadly not taking place in 2015 but I am sure that the town will come up with something in future to keep all of our local bike fans happy.

---

Our brilliant weekly Market with quite a good variety of stalls. From fruit and veg to vinyl records.

St George 2016. with our town crier Roy Palmer. Our little bit of pageantry to celebrate our Patron Saint.


R.N.L.I.


The crew of Mablethorpe Lifeboat Station taken about 4 years ago in front of the old Atlantic 75 and D class inshore boat


Joint Exercise time when the Air Sea Rescue Helicopter comes down and the crews get to be rescued and get a ride in a Sea King for a short while. Quite a spectacle and not easy due to our prevalant easterly winds that tend to make hovering less than easy.


In February 2011 I was very fortunate to have a couple of hours out on our local Lifeboats with a change from one to the other about a mile out to sea. I took about 105 pictures and got about 10 OK and 6 that were good.


Birds eye view from the rear crew seat with Shaun Riggall at the helm doing about 25 knots after becoming airborne on the pretty rough seas desperately trying to hold a camera still and keeping as much of the spray off the 2 filters I had fitted to keep the inner working parts dry. I wrapped my older camera in a watertight polythene bag to keep the damp out and enable me to actually hold it while being battered about. Even this didn't stop a couple of drops getting into the front but no damage was caused to the inner workings.


---

Me 4th from the right (as facing the photographer) and the reporter stood to my right feeling quite hyper and worn out.
He had the distinction of being dumped in the water and rescued in 10 foot waves. Lucky lad (not)!!!!!!


Our brand new Atlantic 85 Lifeboat.

---

This is what happens when you get too close to the sandbank. A free tow by our friendly Lifeboat crew to the open sea.

December 5th 2013
Storm Surge

On the week preceding December the 5th we had warning of an impending "Storm Surge" all the way down the east coast as far as west Norfolk. What we actually experienced was a once in a lifetime event that few will forget. When walking with my dog on the beach about 3 hours prior to the high tide I noticed that the sea was then at least as high or higher that a normal high tide. Here are some pictures taken during the full high tide and also the Friday morning aftermath. The power of the waves and the sound are things very difficult to describe and pictures don't really give you an idea of how awsome the sight is.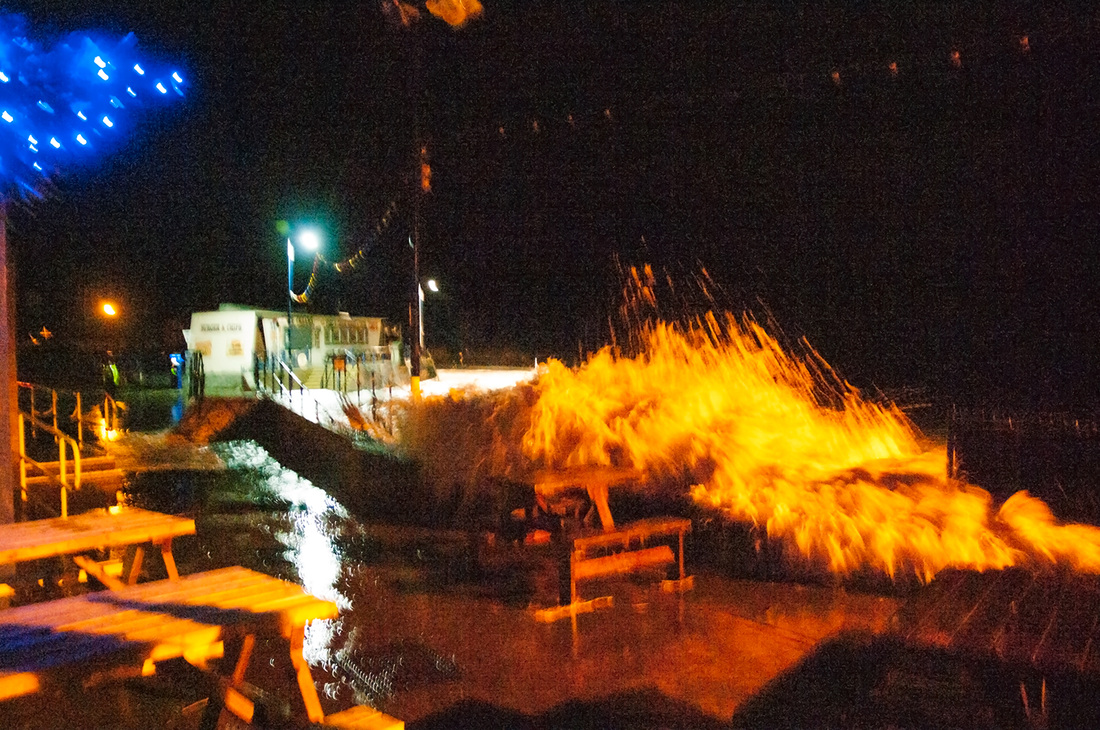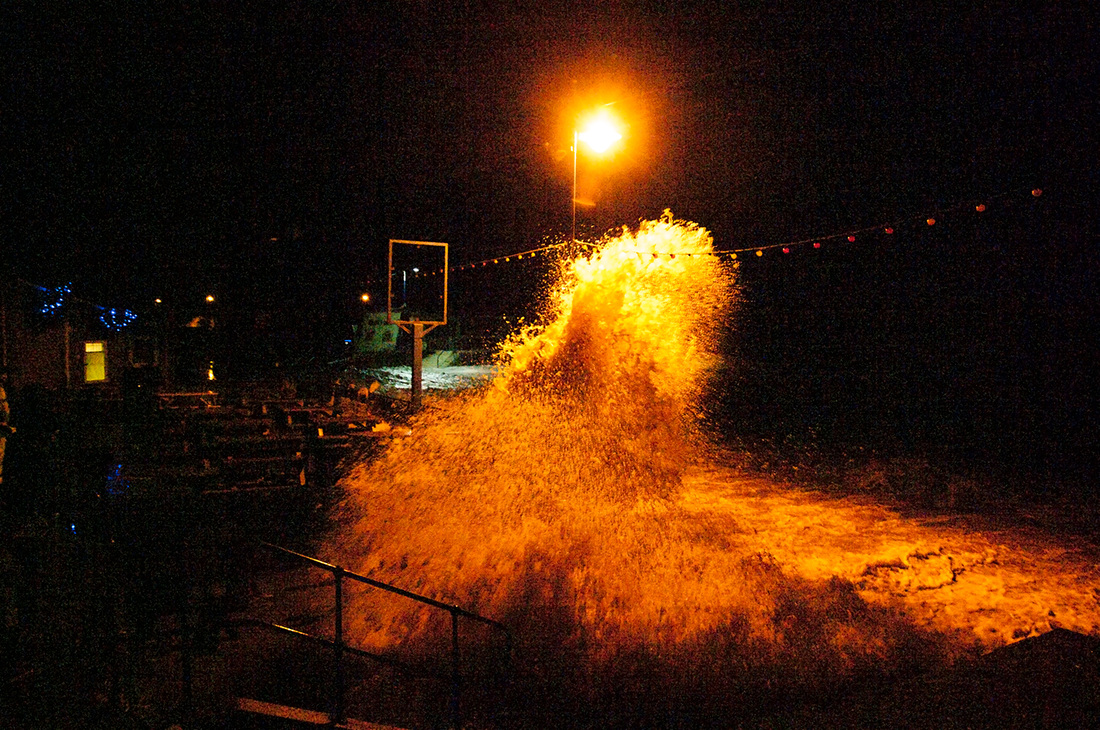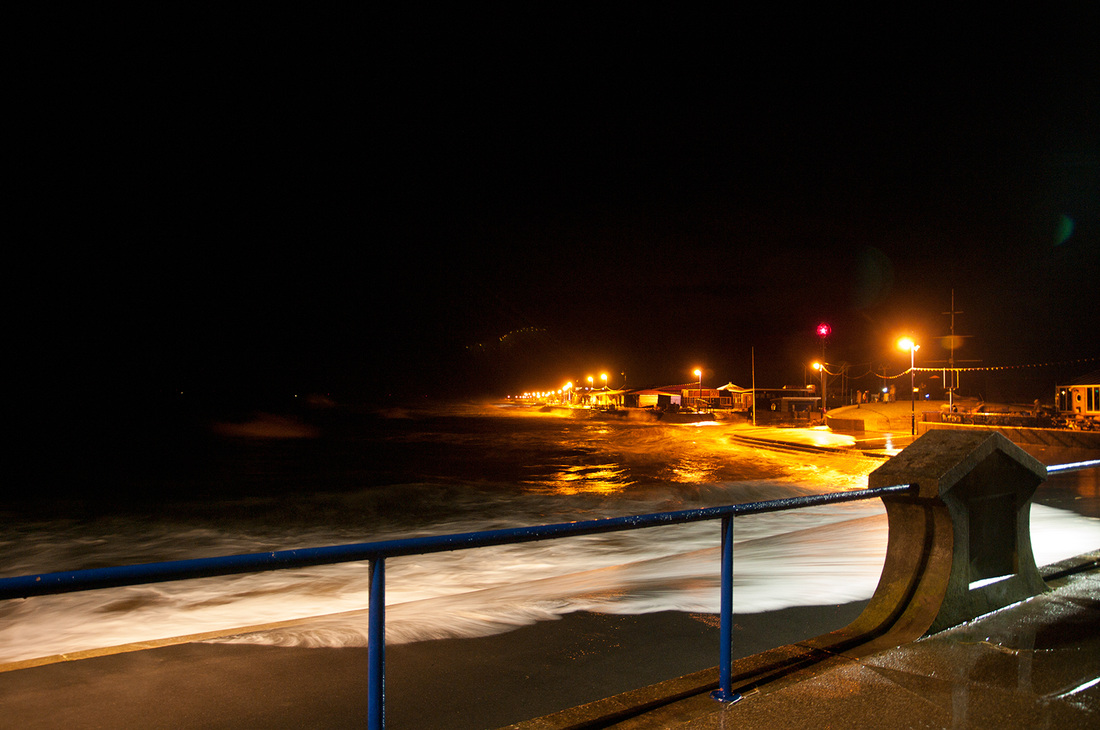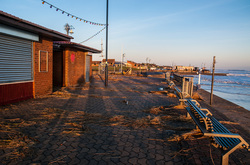 The morning after the night before. Five days on and the Prom is clear and several diggers and sweepers have lamost cleared the beach too. All we need now is to get some steps from the Seaview car park due to these being about 15 feet shorter than they were prior to the high tide. A large section of dunes also went missing and they are back to where they were about 20 years ago with most of the fencing now on the Prom along with an awful lot of scrub that had been building up over the years and acting as a natural tidal barrier.

---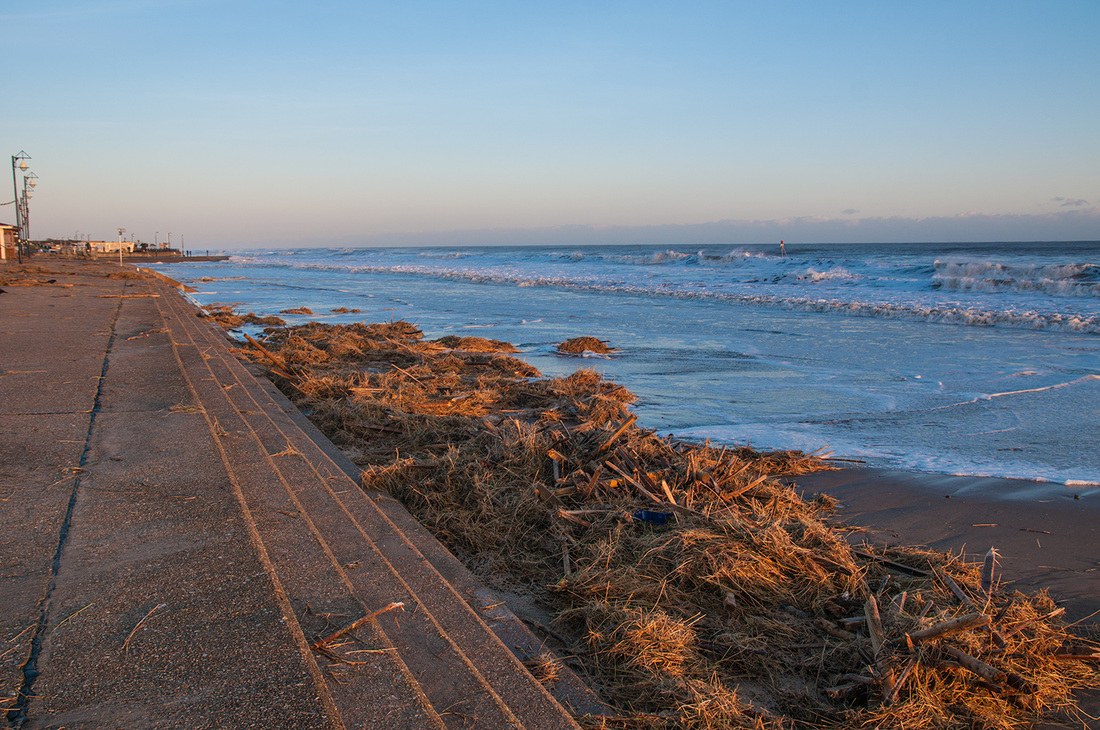 THE ENVIRONMENT AGENCY TAKING 6-8 WEEKS TO DO WHAT THE SEA DID IN 1-1/2 HOURS!

Ater the storm surge the sand dunes needed building up to replace the ten metres of sand that were washed southwards Several 30 tonne dumper trucks and several excavators were used to move the sand back to the north beach. Unfortunately the dredger boats were unable to get close enough at this end to bring any in. No idea of the cost but I am sure the taxman will collect enough to cover the cost!!

---
P&O VENTURA. MAY 2013 CROSSING THE MED AND OUR VERY OWN WAVE MACHINE

July 2013. Note the guy riding past on his bike, wet through and riding like a madman.

Bobby and his paddling partner coming ashore after a 15 mile kayak to raise funds to help a young lad get well and walk properly again.

Not sure how much was raised but several plucky people also carried out a sponsored walk from Skegness along the beach and arrived pretty much worn out but soon revived with one of Bobbys breakfasts.

July 17th 2014 Mablethorpe Bike Night.
The first of many we hope

To contact with order details, E mail. TBRADFONE@AOL.COM
Tel No. 07802964299